The History of P & F Meat Market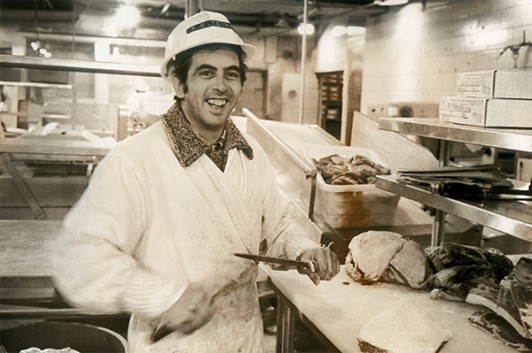 A New Generation of the Meat Business is Born
At the age of 14 Pete Tsimaris began working in a meat market in Piraeus, Greece the port of Athens serving the local community. He and the master butcher would make daily visits to the farm to select animals for kill.
By the age of 16 Pete had acquired all skills necessary to become a master butcher himself. Very frequently customers would request of him to select the meat. His talents to cut meat with the attention to detail led to more business for the small meat market.
Later Pete immigrated to the USA his path led him to Hackensack NJ. He took a position in the meat department of a Pathmark grocery store where he learned the American way of merchandising meat.
In 1973 he moved to Washington DC where he met the love of his life Faith. He later found a new role working at District Hotel Supply doing portion control. In 1976, wanting to start a business of his own he opened shop in Wheaton, MD. Through this small retail opertation he processed sides of cattle for freezer orders also merchandised meat through retail case.
In 1985 it received USDA establishment #17874.  From there the wholesale operation took form through delivering meat from a refrigerated pickup across the DC Metropolitan area.
The family business was then created when sons Savas and Angelo joined.  There first order of business was to learn how to take care of the restaurant customer.